Senior Leadership Team Welcomes Ian McPhillips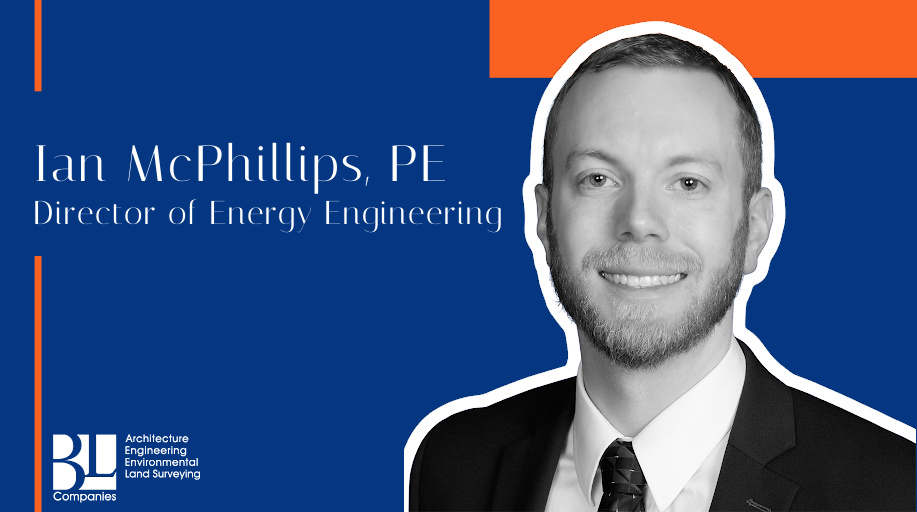 BL Companies, an employee-owned, multi-disciplinary architecture, engineering, environmental and land surveying firm, is pleased to announce that Ian McPhillips, PE has joined the senior leadership team and been promoted to Director of Energy Engineering.
A graduate of Binghamton University and Farmingdale State College, Ian started his career at National Grid. Immersing himself into the LNG (liquefied natural gas) space, Ian spent several years working on multimillion-dollar LNG installations before moving into a management role in LNG and CNG (compressed natural gas) Engineering for National Grid. Since joining BL in January 2020, Ian has provided leadership and management of BL's Melville, New York energy team overseeing a wide range of projects including those focused on the modernization of energy systems and renewable energy.
In his role as Director of Energy Engineering and as a member of the senior leadership team, Ian is responsible for the management and oversight of the energy group including project execution and development of our employee owners. With an eye toward business development and the in-house resources of multiple disciplines, Ian will continue to work with project managers and the senior leadership team on strategies to bring in new clients and energy-related opportunities.
"It's not lost on me how fortunate I've been, being in the right place at the right time and working with talented people at BL Companies," Ian says. "I look at what the firm has been doing over the last several years and how well it has worked for us. I look to continue the direction we're headed in while creating the same opportunities I've been afforded for the rest of our people – giving them the chance to expand into different parts of the business while continuing to grow so we can open up these opportunities for others."
"Ian McPhillips' promotion signifies a significant milestone for BL Companies' energy engineering department as it continues the momentum established for a promising future in the broader energy market," said Derek Kohl, VP of Operations. "As we intentionally plan for succession and strategic growth, Ian's knowledge, experience, and approach will undoubtedly facilitate our ongoing growth and continued success. With Ian and the outstanding energy team at BL, we are confident that we will continue to lead the way in the ever-evolving energy industry and make a lasting impact on the clients that we serve."
BL Companies, Inc. Announces New Director of Energy Engineering
was last modified:
September 12th, 2023
by