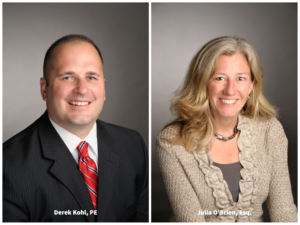 September, 2022 (Meriden, CT) – BL Companies, an employee-owned, multi-disciplinary architecture, engineering, environmental and land surveying firm recently named Derek Kohl, PE and Julia O'Brien Esq. to Co-Vice Presidents of Operations. Mr. Kohl and Ms. O'Brien were selected because of their dedicated work and proven ability to have a broad impact on the success of the entire firm. Their new roles will prove critical to the future success of BL, ensuring that it has strong, experienced leaders in place.
"Having Derek and Julia working together to lead our operations is exciting news for BL," said Carolyn Stanworth, President and CEO. "Expanding our leadership capacity will help position BL Companies as a growing, sustainable ESOP company and will be a great benefit to all our employee owners."
Mr. Kohl and Ms. O'Brien will be jointly responsible for ensuring the success of BL Companies' day-to-day operations, and will also continue to serve in their existing roles as Executive Director of Engineering (Kohl) and General Counsel (O'Brien). In addition to leading BL's operations, they will be responsible for helping to lead business development execution and marketing, financial performance, project management, infrastructure, human resources, information technology, legal, succession planning, and culture.
"The continued success of our company for our employee owners and performing for our clients is what drives both of us. Throughout our careers, we've been excited by the challenges that help us to learn, improve and grow as part of our leadership development. We are honored to be able to serve in these expanded roles working closely with the company's senior leaders and employees to position us for continued and sustainable growth."
BL Companies is a 100% employee-owned company providing multidiscipline architectural, engineering, environmental, and land surveying services to clients throughout the US. BL is consistently listed among the Top 500 Design Firms in the US by Engineering News-Record and has over 375 employee-owners across Connecticut, Florida, Maryland, Massachusetts, New Jersey, New York, North Carolina, Ohio, Pennsylvania, Rhode Island, Tennessee, and Texas.
BL Companies Promotes Kohl & O'Brien to Vice Presidents of Operations
was last modified:
October 10th, 2022
by