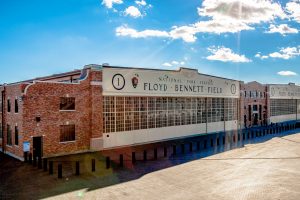 BL Companies has been awarded the 2016 New York State Historic Preservation Award for the restoration of Hangars 1 & 2 at Floyd Bennett Field in Brooklyn, NY. It will be presented at a ceremony in Albany on December 8th.
The buildings are on the National Register of Historic Places and are owned by the National Parks Service. Williams Pipeline is using the interior space to house a natural gas regulating station. In exchange, they agreed to restore the buildings to their original condition.  Although the buildings hangars were on the verge of collapse BL Companies undertook design of the restoration.  They have been faithfully restored in strict compliance with the Secretary of the Interior Standards.
Earlier this year, the project has also received the Lucy G. Moses Preservation Award from the New York City Landmarks Conservancy.
The State Historic Preservation Office selected this project from all of the many historic preservation projects that the office reviewed last year, which is truly remarkable.
2016 New York State Historic Preservation Award – Floyd Bennett Field, Brooklyn, NY
was last modified:
November 15th, 2016
by