BL Companies received the 2019 "Best in Class: Industrial Project" award at the 24th Annual CREW CT Real Estate Exchange Blue Ribbon Awards for its work on the FedEx Distribution Hub project in Middletown, Conn. The award was presented on April 24th at the Bushnell Performing Arts Center in Hartford, where the winners were announced in front of an audience of local and regional industry professionals.
The 508,000 square foot FedEx Ground Distribution Hub went through multiple conceptual iterations, in order to minimize impacts on the site and the surrounding area. The final design was respectful of the site's environment, topography, and neighbors while still meeting the hub's operational needs. BL Companies provided architectural and engineering services.
"We are honored to receive an award in recognition of industrial design excellence," said Carolyn Stanworth, President and CEO of BL Companies. "Achieving a successful project required a commitment from the entire team in order to ensure the final result met the client's overall vision and goals."
The Annual Blue Ribbon Awards celebrate local and regional real estate accomplishments and excellence. Each year, real estate professionals, as well as designers, developers, planners and other allied professionals, are invited to nominate any exceptional projects completed during the previous calendar year in Connecticut and Western Massachusetts. This "Best in Class: Industrial" award is BL Companies' fourth Blue Ribbon Award.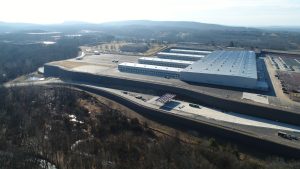 BL Companies Receives 2019 "Best in Class: Industrial Project" Award
was last modified:
May 16th, 2019
by