Carolyn Stanworth, President and CEO of BL Companies was presented the Champions of Change Award at the Annual Construction Institute Women Who Build Summit. Stanworth was honored in recognition of her continued support, contributions, encouragement and mentorship of women in the construction industry. The award was presented on February 20th at the Lincoln Campus Center at the University of Massachusetts Amherst in front of an audience of local and regional industry professionals.
As a leader and mentor to the women and men in the company, Stanworth has harnessed the power of employee ownership to engage and strengthen the BL team. Stanworth was one of the key drivers responsible for planning and instituting the ESOP (Employee Stock Ownership Plan) at BL Companies. She saw – and continues to see – employee-ownership and the ESOP as an excellent opportunity to inspire ownership, engagement and accountability among employees. Stanworth supports her employees both professionally and personally and works closely with senior leadership, managers, and external consultants in the implementation and enhancement of the shared ownership culture at BL Companies.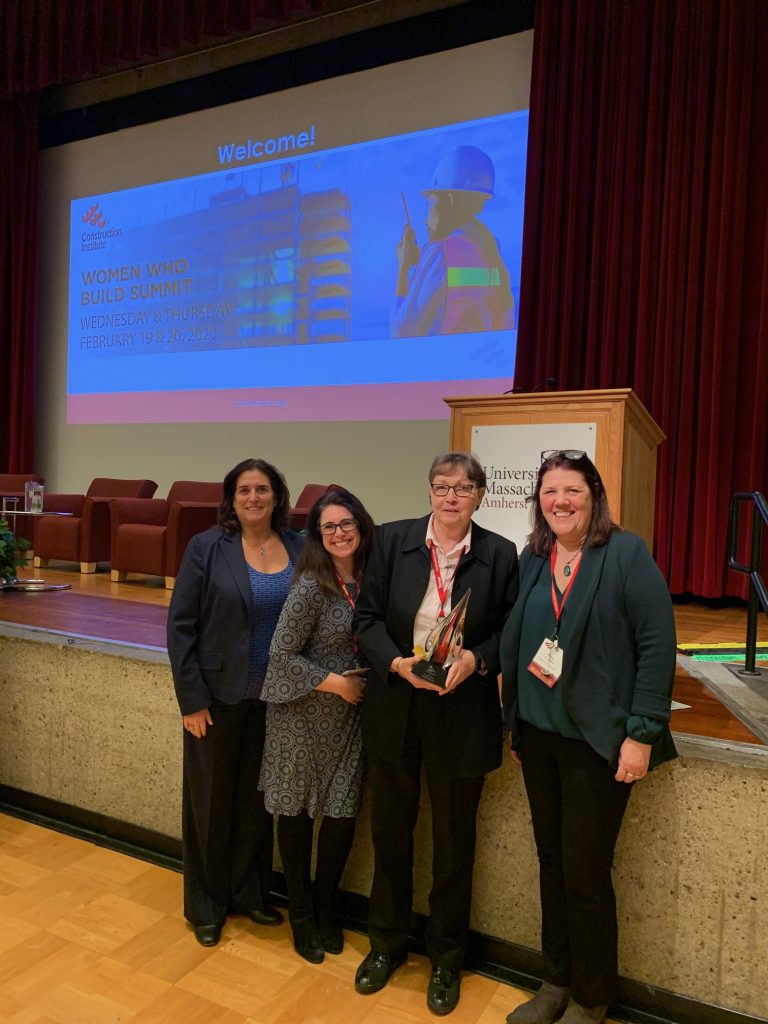 At the event she shared her philosophy around leadership training at BL Companies. She remarked, "Leadership is not a title. It is a way of behaving and if we all do that – we'll be better as a team and a company."
Stanworth heads an employee-owned, multi-discipline company, whose core leadership includes seven women among sixteen key people. She has engaged her 37 years of experience in strategic planning, financial analysis, accounting, operations, auditing, and information technology to shape a leadership training program at BL Companies. This program is designed to develop a common language, instill respect and foster communication for all employees at BL Companies. Stanworth continues to champion the firm's leadership development initiatives and has fundamentally changed the way the architects, engineers, surveyors and scientists at BL look at the business.
BL Companies is a 100% employee-owned company providing multidiscipline architectural, engineering, environmental, and land surveying services to clients throughout the US. BL is consistently listed among the Top 500 Design in the US by Engineering News-Record and has nearly 300 employee-owners across Connecticut, Maryland, Massachusetts, New Jersey, New York, North Carolina, Ohio, Pennsylvania, Rhode Island, and Texas.
BL Companies' President & CEO, Carolyn Stanworth, Receives Champions of Change Award
was last modified:
March 23rd, 2020
by